HELPING A YOUNGSTER RIDE THE ROPE TOW
Riding a rope tow can be difficult for a youngster for the first time. The following hints will help set it up for success.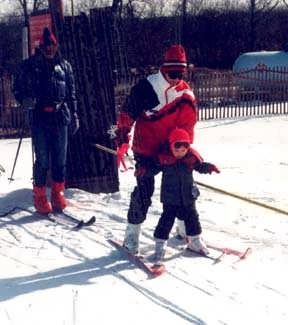 Take the child to an area near the tow rope and watch others ride the rope tow. Explain the advantages of bending the knees and keeping the feet apart for good balance and stability. The skis should be parallel and apart to avoid lateral movements while ascending the hill. Approach the rope tow with the child in front as shown above. Slowly grip the rope and ride the rope with the child supported by your legs. Initially make sure the child does not grab the rope until you are both moving. During the trip encourage the child to stand up straight and hang on by himself.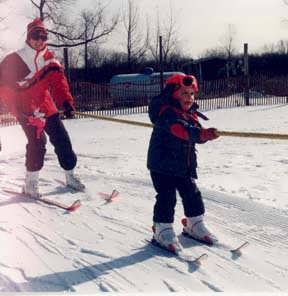 Slowly back away from the child by allowing the rope to slip through your hands as shown above. Say close in case help is needed. If the child starts to lean to one side, you can gently pull against the rope to help the child regain a standing position. Repeat several times and your child will quickly learn how to use the rope tow and enjoy beginning skiing.